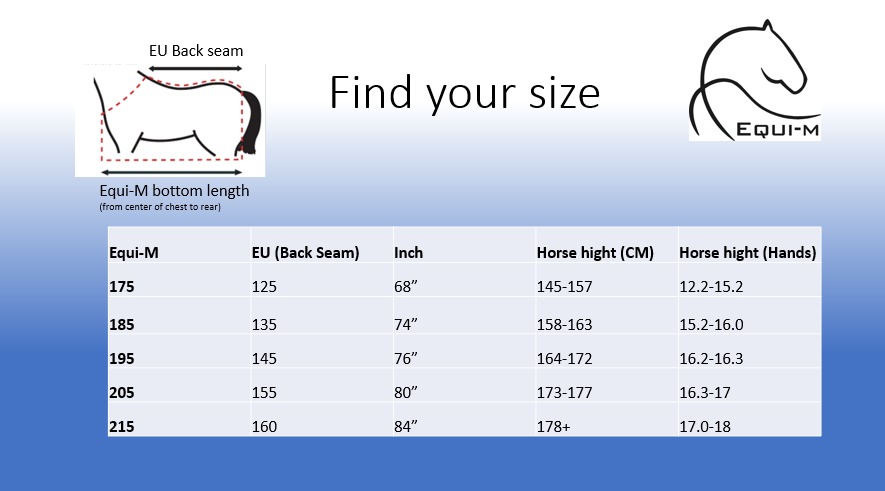 Find the right size rug for your horse
Finding the right size is essential for your horse. Equi-M has adjusted the sized compared to the standard rugs, allowing for an even better fit for your horse. 

The essence of the Equi-M Combi-Rug is that the shoulder fits. To ensure this, make sure your horse is standing square and on a level surface. Start measuring from the centre of his chest, around his side, to the rear of his haunches where the blanket would end. In addition, measure the length between his withers and his tail. 

Use the diagram below to find the best fit for your horse. If you're between 2 sizes, always get the bigger one, as a smaller blanket will be uncomfotable and cause pressure in places it should not. It's better to have a few CM's to spare at the end than to be too tight around the chest. 

The right fit?
Make sure the blanket is not too tight. Does your hand fit easily between the blanket and the withers? Is it the same for the the shoulder, you should have no tight spots which force you to push your hand in.
Can he graze comfortably? Put some food on the floor and allow your horse to reach for it to test out his freedom of movement. Equi-M's lower flap is allowed to tighten but should still allow your horse to eat comfortably, but the outer layer should stay loose. There should not be excessive pressure anywhere on the blanket.
Does the blanket stay securely in place when he moves around? You shouldn't need to fasten the surcingles very tightly; if you do, it is probably too big. (Make sure that they are not so loose that he is in danger of catching a foot in them.)
Shopping cart
No items in shopping cart.